The European Parks Academy
Learn. Exchange. Enjoy.
'A unique opportunity for professionals in nature conservation'
Welcome
You want to be part of the EPA experience? Fantastic. Find out ...

... what the European Parks Academy is all about
... why you should be part of it
... the latest news
... how to register
... which top experts in nature conservation will be your mentors and you will be collaborating with
... what the programme 2021 has to offer
... how you can contact us
what the European Parks Academy is about
The European Parks Academy (EPA) is a summer academy for professionals working in nature conservation. It takes place every year in the beginning of July in Klagenfurt, Austria.

For one week you collaborate in small groups closely with top experts from around the world in various workshops and work on personal showcases. Your mentors at the academy include experts from IUCN (International Union for Conservation of Nature), WCPA (World Commission on Protected Areas), the Carinthia University of Applied Sciences, E.C.O. Institute of Ecology and many more.
why you should be part of it
Why join?
The European Parks Academy (EPA) is a unique opportunity to learn more about emerging trends and new approaches in the management of protected areas. The seminars of EPA focus on the practical implementation of international standards (e. g. IUCN, UNESCO, Ramsar), policies and guidelines.
Bring a showcase from your work to this exclusive training. In an intensive 4-day seminar you will work in small groups, discuss with renowned experts to find innovative solutions for your individual challenge. This is your main take-home message, bringing new perspectives into your organisation. Maybe you can even save money which you would have spent for a consultant instead!
Who is this training for?
The academy programme is designed for professionals in nature conservation from all over the world, including administrative and technical staff of protected area management bodies, consultancies and planning companies, NGOs and international institutions, interested scientists or researchers as well as representatives of stakeholder groups having a professional interest in conservation.
REGISTER NOW for 2021
To register, please fill in the online form.
You are very welcome to contact us, if you have any questions. Find out more about the programme.
LATEST NEWS

Webinar series - recordings online
The recordings of our 4 webinars are online here for you to watch.
Newsletter

Register for our newsletter via treffner@e-c-o.at to get updates. And spread the word!
ECTS credits available!
If you are a student you can be awarded with 3 ECTS credits in the European system after attending the academy and writing an additional seminar paper. Please check with the relevant office of your institution. We we will provide any necessary supporting evidence to help evaluate the worth of the course.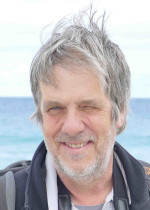 Mike Appleton | IUCN

Mike Appleton is Director of Protected Area Management with the international NGO Global Wildlife Conservation. His work focuses on applied, area-based conservation, building on scientific findings to achieve conservation results on the ground. This includes helping governments identify and establish protected areas, creating legal frameworks and systems of governance, developing management strategies and plans, and building the capacity of staff and organisations to meet the complex challenge of being guardians of the world's growing protected area network.
Mike has worked in more than 40 countries in Asia, Africa, Europe and the Caribbean. His approach is based on a strong belief in participation, working with local partners to build custom-made solutions that meet local conservation needs, contexts and cultures. Mike is author of a widely-used IUCN guide to competences for protected area staff and serves as vice chair for capacity development in the IUCN World Commission on Protected Areas.
A nature lover from an early age, Mike started his conservation career as manager of an award-winning project for conservation on private land in his native UK. This was followed by six years developing and delivering vocational conservation training in collaboration with the University of East Anglia. After joining Fauna and Flora International he worked as a protected area management specialist, project manager and South East Asia Program Director, living in Jordan, the Philippines and Cambodia. Prior to joining GWC in 2017, he spent 10 years working as an independent protected area specialist.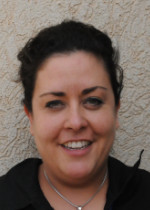 Minnattallah Boutros | GFA Consulting Group GmbH
Ms Minnattallah Boutros studied biology and chemistry at the University of Würzburg, with specialization in tropical ecology and biodiversity. During her research activities she conducted studies on beetle diversity in relation to different biotic and abiotic factors and fish diversity in ephemeral savannah waters, both in Ivory Coast. In the last 25 years she visited almost 20 of the sub-Saharan countries in the context of biodiversity conservation and cooperation with African partners.
During her career the focus has been shifted from own research activities via management of research in Africa with major emphasis on capacity building to nowadays consulting services on behalf of KfW and GIZ in Africa. During that time she has developed extensive skills in multi-stakeholder contexts and has been responsible for the management and backstopping of several big projects for various donors in Africa, starting with the BIOdiversity Monitoring Transect Analysis in Africa (BIOTA) project in West Africa. In the framework of this project sustainable solutions for biodiversity utilisation and conservation have been developed together with national universities in Burkina Faso, Benin and Ivory Coast.
After this period she was responsible for the 10 graduate schools of WASCAL (West African Science Service Centre on Climate Change and Adapted Land Use). Currently, she is Portfolio Manager for the Africa Region in the Natural Resources and Environment Management Department of GFA Consulting Group GmbH in Hamburg.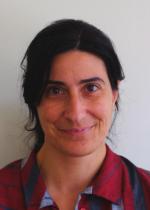 Catarina Ferreira | IUCN
Dr. Catarina C. Ferreira is a broadly trained conservation scientist, with 20 years of international experience in the research, project management and policy arenas, having worked across academia, the public, private and not-for-profit sectors. She holds two MSc degrees in Applied Ecology (University of Porto, Portugal) and Wildlife Management (Castilla-La Mancha University, Spain), and a PhD in Biology from Castilla-La Mancha University (Spain).
As an academic, she has developed a solid scientific background specializing in terrestrial ecology, with a strong focus on mammals, land-use conversion and climate change issues and policies, protected area management and species-at-risk conservation in Europe and North America.
She is currently the European Biodiversity Conservation Coordinator at the International Union for Conservation of Nature (IUCN), based in Brussels (Belgium), where she leads the implementation of the Global Species & Key Biodiversity Areas Programme in the region.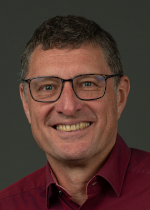 Michael Jungmeier | University of Applied Sciences, Carinthia
Michael Jungmeier is an ecologist and human geographer, for more than 30 years dedicated to nature conservation, its further development in the 21st century and its positive impact to society.
At the Carinthia University of Applied Sciences in Klagenfurt, Austria he passes on his decades of knowledge, expertise and passion for the diversity and beauty of nature in 3 educational programmes as professor for Nature and Sustainable Development: in the Master's programme 'Management of Conservation Areas', the certificate course 'Nature Conservation Engineer' and during the 'European Parks Academy'.
As founder of E.C.O. Institute of Ecology, he has been involved in more than 600 projects in about 40 countries worldwide. The focus of his work is on the management of natural assets, in particular conservation areas (national parks, UNESCO biosphere reserves, UNESCO heritage sites, UNESCO geoparks). To him key for further professionalising nature conservation is to establish attractive career prospects, properly functioning institutions and inspiring state-of-the-art educational programmes.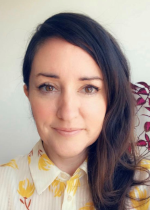 Jennifer Kelleher | IUCN
Jennifer Kelleher leads the programme on Governance, Equity and Rights in the Global Protected Areas Programme of the IUCN - International Union for Conservation of Nature. Jennifer is Irish and has trained as a lawyer, historian and legal anthropologist with degrees from Ireland and Austria. She wrote her PhD on considering nature conservation law as a historical "legal transplant" using postcolonial theory to critique dominant legal approaches and systems especially in the creation of protected areas.
In her work at IUCN, she is interested in the governance of protected areas, human rights, rights based approaches and the recognition of indigenous peoples' rights in nature conservation. She works on several projects from around the world, on recognising indigenous peoples' rights to lands and territories, the use of customary laws and traditional knowledge, and community led conservation. She also works to support implementation of the IUCN Green List and on the emerging concepts of "conserved areas" or other effective conservation measures.
Jennifer is also passionate about teaching, learning and co-shaping knowledge, in particular by utilising participatory action and historical research as key tools for transformative change.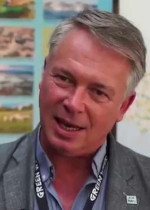 Neil McIntosh | EUROPARC Federation
Neil hails originally from Scotland and moved to the Netherlands in 2005. A graduate of Edinburgh University, he has worked in various sectors including health, education, social regeneration and nature protection. Neil's last job in the UK was with Scottish Natural Heritage: his work focused on building nature professionals' capacities in projects and diverse, multi-sectoral partnerships throughout Scotland. Neil has continued to work in equivalent areas at European level. For the last 14+ years, he has worked with various European network organisations, focusing on practical nature conservation, sharing information and experience, to build new know-how: more recently, his work has included development of sustainable tourism initiatives in Europe's protected areas.

Travelling frequently across Europe (and more widely), Neil is able to meet and work together with amazing people and a wide range of organisations. He met Dirk and got to learn about the Crossbill Guides in year one of his move to Arnhem. The deep connections that exist between nature and society have always been special for Neil: on both personal and professionals levels, the relationships between folk and place matter.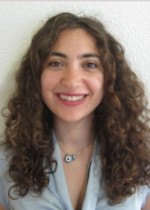 Nadine Seleem | IUCN
Junior Professional, Global Protected Areas | Born and raised in Egypt, Nadine started building a strong connection to nature and protected areas through her love for the Red Sea. She advances the IUCN Green List of Protected and Conserved Areas by working on implementation with a particular focus on the West Asia region; leading on communications and accompanying the scaling up process for the IUCN Green List.
Nadine graduated recently from the University of Geneva with a Master's degree in Standardization, Social Regulation and Sustainable Development; and has worked in Europe, North America, and the Middle East in both private and non-profit sectors.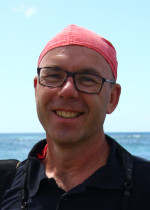 Andrej Sovinc | WCPA
Dr. Andrej Sovinc is a protected area expert with 15 years of site management experience as the head of the Secovlje Salina Nature park and Natura 2000 site in Slovenia. For the last 25 years he is actively involved in international conservation; e.g. coordinating the IUCN European Action Plan for Protected Areas and, since 2012, coordinating the European network of over 600 protected area experts in the IUCN World Commission on Protected Areas, as European Vice-Chair. Initially trained as a civil engineer and specialized in wetland management and restoration, he subsequently undertook post graduate studies on nature protection and gained a PhD on protected area systems.
His experiences are in practical protected area and Natura 2000 management, working with stakeholders and local people, in provision of advisory services to governmental agencies and NGOs on different interventions and in cooperation with consultancies and experts on different analytical projects. His work is reflected in the preparation of management and strategic documents for protected areas and use of natural resources, project development and management, capacity building, education and organization of expert meetings and trainings, balancing the biodiversity conservation goals with the needs of people.
He is an ornithologist; and compiled the Atlas of Wintering Birds in Slovenia and several other publications on birds and the protection of nature and is engaged in research and monitoring activities.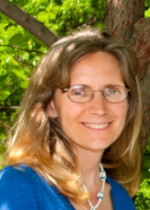 Eleanor Sterling | American Museum of Natural History
Dr. Eleanor Sterling is Jaffe Chief Conservation Scientist at the American Museum of Natural History's Center for Biodiversity and Conservation. Building on her interdisciplinary training and over 30 years of field research and capacity development experience in Africa, Asia, Latin America, and Oceania, her work focuses on the intersection between biodiversity, culture, and languages; the factors influencing ecological and social resilience; and the development of indicators of multidimensional wellbeing in biocultural landscapes.
She is an expert in strategic planning from a systems perspective and in implementation and evaluation of capacity development.
She is currently Deputy Vice Chair for the International Union for the Conservation of Nature's (IUCN) World Commission on Protected Areas Core Capacity Development group where she co-leads working groups on Capacity Development Evaluation and on Indigenous Peoples and Local Communities.
European Parks Academy 2021 | Programme
In 2021, the European Parks Academy will take place from 12-18 July in Klagenfurt again with the Lakeside Campus next to the Wörthersee as attractive academy venue with the programme and seminar topics intended for 2020. The free webinar series 2020 serves as an introduction and preparation for participants. Basically, the webinars give an insight into the topics of the EPA 2021 modules presented below.

For the 5th round of the European Parks Academy in 2021, participants will be asked to choose among three different seminar modules:
Seminar A: Enhancing the Value of Natura 2000 Sites for Regional Development

Natura 2000 sites are of outstanding European value. Among European countries, different approaches exist to promote and use the site beyond nature conservation. The training and coaching programme of this seminar will deal with conflicts, challenges, limits and potentials regarding the valorisation of the Natura 2000 Sites for regional development. Participants will learn how to act between limitations and potentials as well as between socio-economic values and a Good Conservation status. Experts from the Natura 2000 Network, IUCN Green List and EUROPRAC Federation will elaborate and discuss these core themes with you. Bring your personal case example to learn from and with each other!
Representatives from international Institutions, IUCN Green List, EUROPARC Federation and Experts from E.C.O. Institute of Ecology
Seminar B: Capacity Development in Protected Areas and other Conserved Territories
Capacity development is about transformation that empower individuals, managers, organisations and communities. Today, more and more is expected from protected areas, such as educating, resource protection, visitor management and research. How do I successfully communicate the vision and values of a protected area? What are strategic approaches for attracting, enabling and informing individuals, organisations, communities as well as a broad audience? Within this seminar these issues will be elaborated with experienced experts from IUCN | WCPA and EUROPARC Federation. Bring home inspiring ideas and tools for increasing the visibility, influence and outreach of your park.
IUCN | WCPA and EUROPARC Federation
Seminar C: Nature Conservation and Human Rights in Protected Areas

Protected areas have different impacts on the lives of local communities and actions to conserve nature are often related to rights of people and their access to natural resources. Many questions remain about how to respect human rights and at the same time implement nature conservation programmes. Our Experts from the the GFA Consulting Group, the Conservation Initiative on Human Rights (CIHR) and the International Institute for Environment and Development (IIED) will discuss guidelines, examples and showcases of international importance with you.
GFA Consutling Group as well as representatives of KfW Development Bank*, IIED – International Institute for the Environment and Development* and CIHR – Conservation Initiative on Human Rights* (*to be confirmed)
We will visit two conservation areas:
- the last remaining major wetland environment in Central Europe: the Donau-Auen National Park, a nature gem situated between the European capitals Vienna and Bratislava.
- the Wienerwald Biosphere Reserve, which was designated as a Biosphere Reserve in 2005 by UNESCO. This standing protects the great variety of natural and cultural elements that make this region so unique and valuable.

Plus: The city of Vienna is just around the corner. We'll also explore Austria's renowned capital.
>> Download programme and timetable here << [currently being updated for 2021]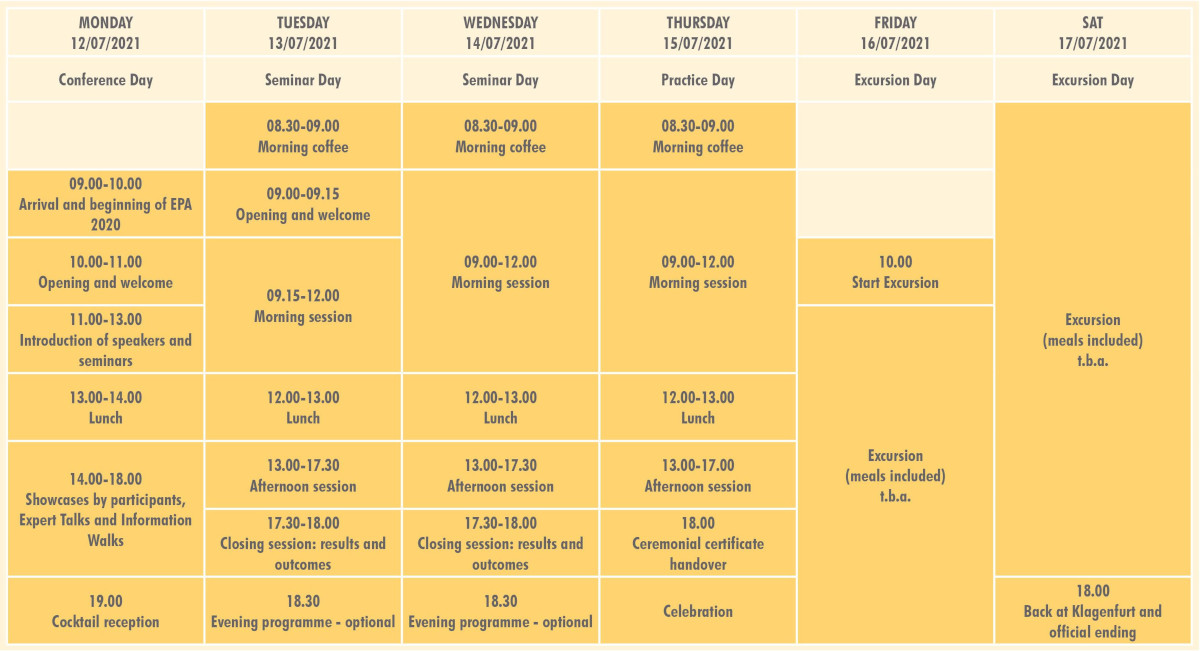 Location 2021
The summer academy is situated at the attractive and inspiring facilities of the Klagenfurt Lakeside Campus in Austria. In 2021, the seminars as well as the conferences will again take place on the Lakeside Campus with the Wörthersee and the historic city centre of Klagenfurt next by. An interesting evening programme offers the opportunity to discover culture and nature of this beautiful place.
Logistics – accommodation & transport
Participants are responsible to organize their accommodation and transport to and within Klagenfurt for themselves. However, the organizing team will be glad to offer support in all logistic questions.
The venue

The academy venue is located close to the lake Wörthersee in the facilities of the Lakeside Park and the Alpen-Adria University. Around the academy venue, you have everything you need: several accommodations options, restaurants, supermarkets, possibilities to walk etc. The city center is 4-5 km away (see map above) and can be easily reached by bike or bus. Bike rental can be organized.
Accommodation
There are many accomodation possibilities in and around Klagenfurt. As the summer season is usually very busy, please make sure to book early enough!
Pension Wachau - reasonable prices (46-69 Euro incl. breakfast) and is located close to the academy venue
Youth Hostel Klagenfurt - close to the venue, shared (24 Euro) and single rooms (32 Euro), advanced payment for booking required.
Seepark Hotel - close to the venue (5 min walk), approx. 100-150 Euro.
Hotel Gretl - next to the lake in Krumpendorf (5 km from the venue), can be reached by train, bike or taxi, approx. 50 Euro.
Hotel Weidenhof - close to the venue (10-15 min walk), approx. 70 Euro.
AirBnB - private rooms or flats in and around Klagenfurt.
Travel
Klagenfurt can be reached by plane (to Klagenfurt airport), train (e.g. flight to Vienna, then 4 hours by train) or by bus (e.g. flight to Ljublijana, 2 hours by bus).
Train connections in Austria: http://www.oebb.at/en/
Shuttle bus Ljublijana – Klagenfurt: https://www.alpeadrialine.com/en/
Taxi in Klagenfurt: +43 463 311 11
Costs
Participants can choose between the following training packages (early bird discount before 31 March):
The fee includes: lunch and one welcome dinner at the beginning of each module; all costs related to food, transport and accommodation during the excursion; evening program (e.g. welcome event, excursion to the lake, guided city tour, etc.)
Not covered are: accommodation (except 1 night during the excursions), dinner during seminars, transport to and within Klagenfurt.
How to register
If you registered for the free webinar series 2020, you are guaranteed a fixed place for EPA 2021 and an Early Bird Ticket. You can then decide until January 2021 if you want to take part in the EPA 2021 in Klagenfurt. We'll keep you updated on the details.

If you did not register for the free webinar series 2021, you can register here for the EPA 2021: For that, please download the registration form. Fill in your personal information. Print out and sign the completed registration form and send a scanned version to wolf@e-c-o.at. Registration deadline is the 30 June 2021.

Scholarship
There are many national and international scholarships and grants available. Please check with your institution or government. One example might be the WWFs' Professional Development Grant.
Deadline... to register for Klagenfurt 2021
... for early bird registration: 31 March 2021
... for registration: 30 June 2021
Course fee... [Update April 2020: the webinar series 2020 is free! The course fee for 2021 will be published here]
Contact
European Parks Academy
c/o E.C.O. Insitute of Ecology
Lakeside B07b, 2nd floor
9020 Klagenfurt , Austria
Email: wolf@e-c-o.at

Programme directorate
Dr. Andrej Sovinc | IUCN WCPA Regional Vice-Chair Europe, University of Primorska
Mag. Dr. Michael Jungmeier | Founder & Senior Scientist of E.C.O. Institute of Ecology, Director of the Master's Programme "Management of Conservation Areas"

Programme coordination
Lisa Wolf BSc MSc | Sustainable development, trainings & education | wolf@e-c-o.at

Programme assistance
Caroline Fiedler | Office | office@e-c-o.at


REGISTER NOW for 2021
To register, please fill in the online form.
FREE WEBINAR SERIES 2020
Webinars 2020 - watch the recordings
In 2020 the European Parks Academy could not take place in Klagenfurt. Thus, we offered a free webinar series for you to get an idea of what is awaiting you in 2021 in Klagenfurt. Within these 4 webinars your mentors provide an insight into their seminars' topics for the EPA 2021 in Klagenfurt (12 – 18 July 2021).


WEBINAR 1: Introduction & why you should be part of the academy | Michael Jungmeier (Carinthia University of Applied Sciences) and Andrej Sovinc (WCPA)
WEBINAR 2: 'Rights that arise in nature conservation' | Jennifer Kelleher (IUCN)
WEBINAR 3: 'Capacity Development' | Eleanor Sterling (Museum of Natural History's Center for Biodiversity and Conservation) and Mike Appleton (IUCN)
WEBINAR 4: 'IUCN Green List & Natura 2000' | Catarina Ferreira (IUCN) and Nadine Seleem (IUCN Green List)
Watch Recording (Webinar 1)
Watch Recording (Webinar 2)
Watch Recording (Webinar 3)
Watch Recording (Webinar 4)